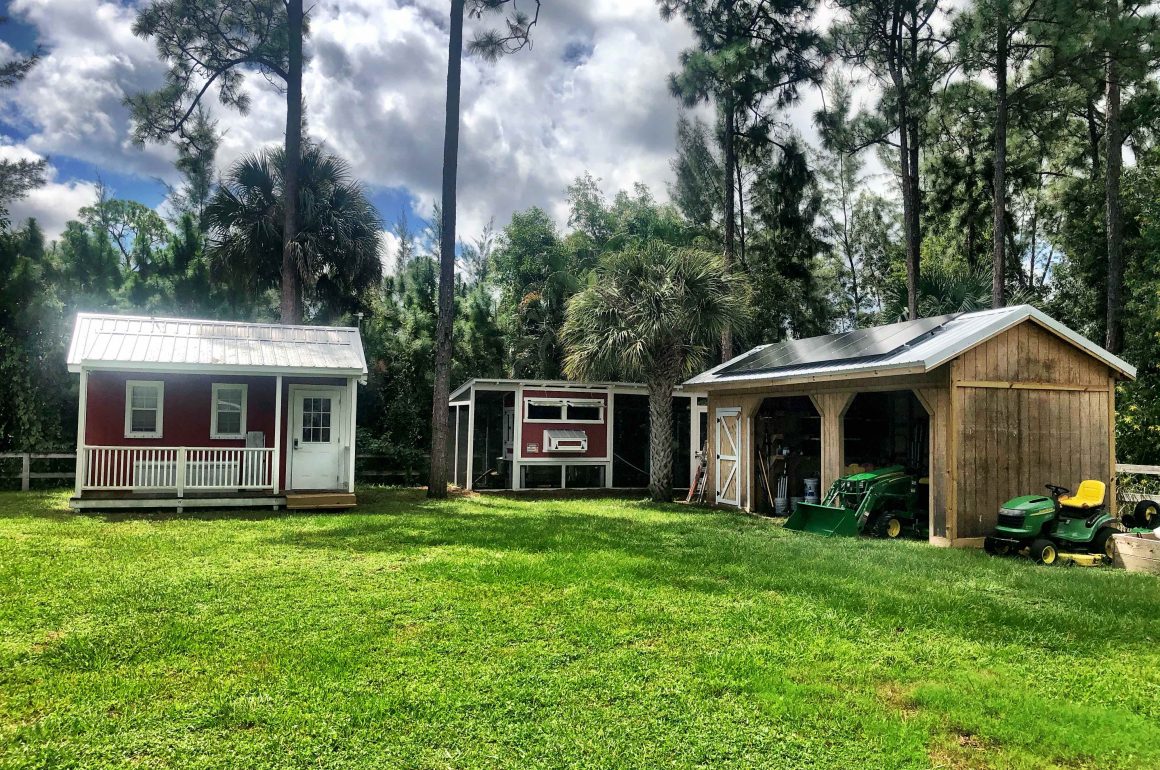 Since March of 2020, due to the lock-down of my office, I have been working at home. Because of this, I took the opportunity to convert my pump house shed into my home office.
I just love working at home. I am fortunate enough to work in an industry where opening up a laptop and connecting to the internet is just about all I need to do my job (and do it well). Like most others who work in tech, I know that that working from home has numerous financial, temporal, and emotional benefits. Of course, not everything about working from home is optimal. Even with Zoom conferencing, remote work just isn't like being together physically and that it lacks some "impromptu creativity." However, the team I work with communicates incredibly well, and it works very well for all of us.
I've been telecommuting for the majority of my engineering career. While working at IBM for 7 years, I did it all remotely. My team of 22 was scattered across the globe. Prior to that, I worked for my own company, and had a home office in Colorado.
I'm sure you all know already, but according to the World Health Organization, coronaviruses are a large family of viruses which may cause illness in animals or humans. In humans, several coronaviruses are known to cause respiratory infections ranging from the common cold to more severe diseases such as Middle East Respiratory Syndrome (MERS) and Severe Acute Respiratory Syndrome (SARS). The most recently discovered coronavirus causes coronavirus disease COVID-19.
As so many folks over the last 6 months have discovered, working at home can be challenging. I have found the best formula is to separate normal home life with work life. That way, I remain completely focused, and when done with work, I simply close the door behind me and go "home."
Since I've had my homestead, I've been actively downsizing. I now have a "tiny house", land, and so much more. As soon as I was told that we need to work remotely and keep socially distant, I jumped at the opportunity to convert what was originally built as a "pump shed" into my "home office."
Over the years this structure has served several purposes, but now, it is a completely "finished" space. Even though my primary residence is only 550 sq feet, the new office adds additional 150 sq feet to the mix. I now have a total of 700 sq feet of living space. It doesn't seem like a lot, but organized well, it is allows me to be incredibly productive.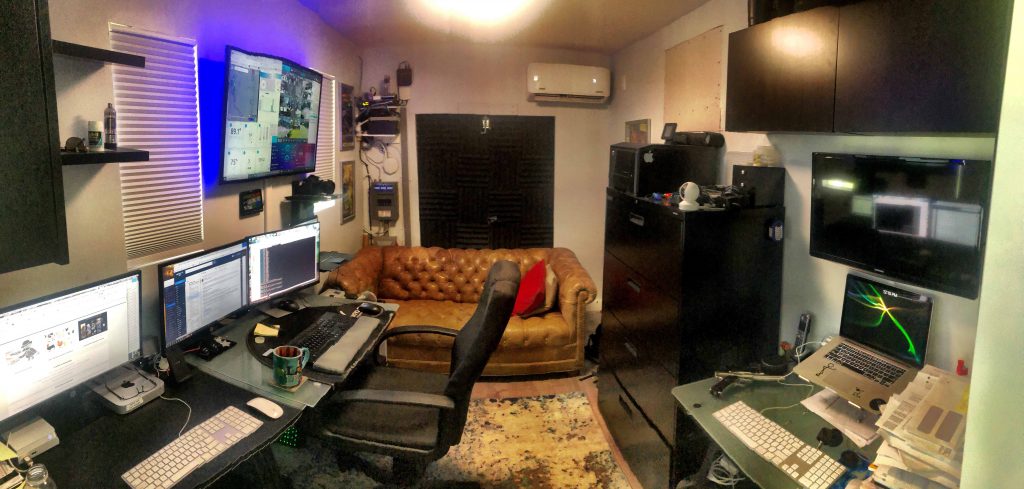 This environment is very comfortable. There are two windows which open to allow fresh air in when it is cool enough outside. It has high-speed Ethernet for inter-web work and a finger-print reader/lock on the door. It includes a weather station on the roof, a mini-split air conditioner, several computers for different purposes. There is a large file cabinet and plenty of wall cabinet space. One desk has two large monitors and my laptop for work. Another desk has my Mac computer with one with one large monitor for personal activities. A third desk dedicated to my photo business is on the other side of the room. It has my laptop and a large 30″ monitor mounted on the wall above it. There is even have a full size couch with plenty of room to spread out.
My 42″ large screen TV can obviously be used as a TV, but it has a dual use during work hours. I have set up as my "homestead command center"… it includes a satellite loop for weather, my security cameras, the weather station display, and my energy monitor for solar power and local energy use.
I will touch on the energy piece. As this office has multiple computers, an air conditioner and lots of networking gear, I have been monitoring the energy use. I have calculated that at peak times, it requires about 8 amps of power for everything to be running at the same time (roughly 1 Kilowatt Hour of energy).
My ultimate goal is for this building is to make it completely off the grid. I'll be providing electricity to it very shortly from my other "corona project"… my "covid-barn."
The "Covid-Barn" is a newly built structure originally designed to look like a horse breeze shed. It is 26 feet long and 12 feet deep.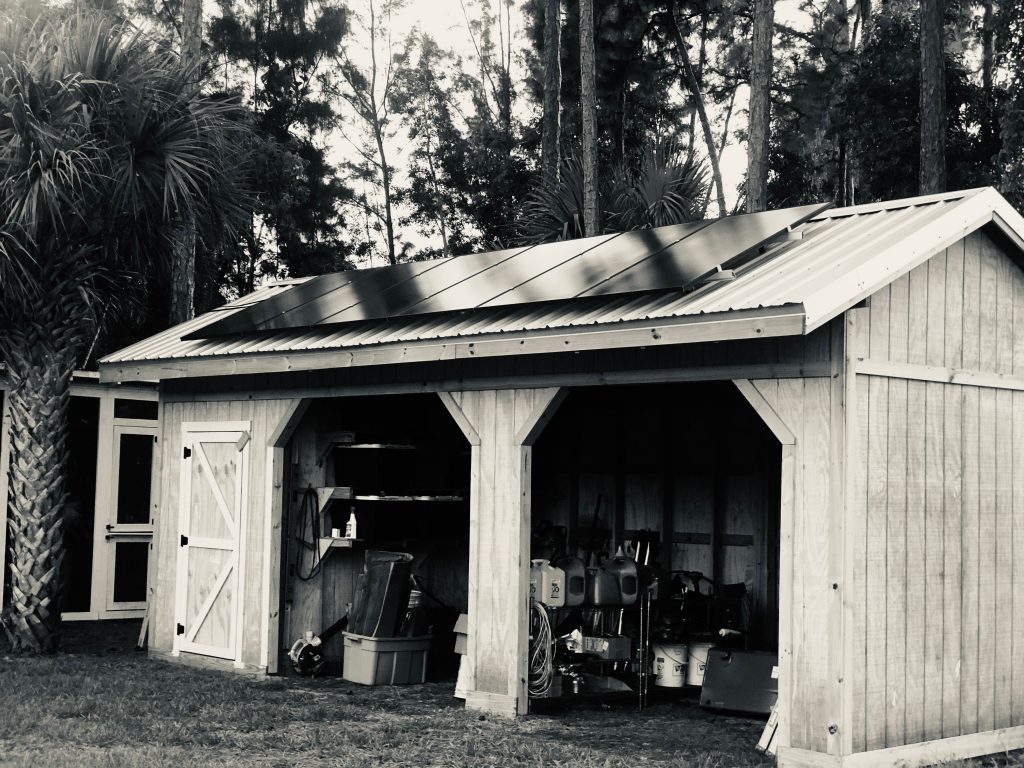 Since I don't have horses, It was built to house my tractor and provide more storage space for everything I need to maintain the homestead. I added a completely closed in "tach room" at one end which doubles as a place for me to keep my chicken feed securely, as well as my solar system electronics and hardware. I will be pulling power over to my home office from the solar setup shortly. As always, I'm improving things daily.
Yes, social distancing is difficult for some. But I feel very blessed. Working at home for these last 6 months has allowed me to be very productive. I have used this extra time around the homestead to dive into new projects and be even more creative with my space. I'll provide new posts about all of the projects discussed above in detail soon.
In these crazy times, I hope everyone is staying safe and continues to social distance. Be smart and stay healthy!