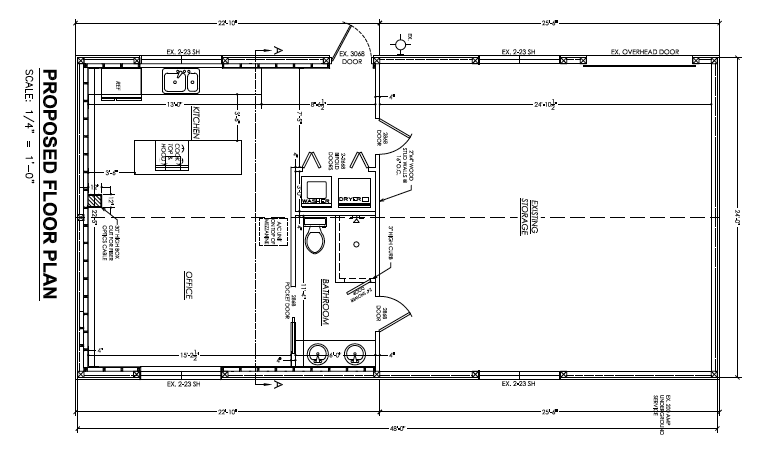 Well, it is official… as of 11:30 am on Feb 19, 2020, we received the approval status on my final inspection of the man cave. All contractors received their final payments, and I finally moved all my junk out of the garage and cleaned it up so I can use it as my workshop again.
For those who don't know me and the history of the "man cave", I converted 1/2 of my pole barn on the homestead into finished living space. It was actually permitted with the county as an accessory dwelling area officially called the "man cave." The total square foot finished space is close to 550 square feet and it took over 2 years of work to complete it.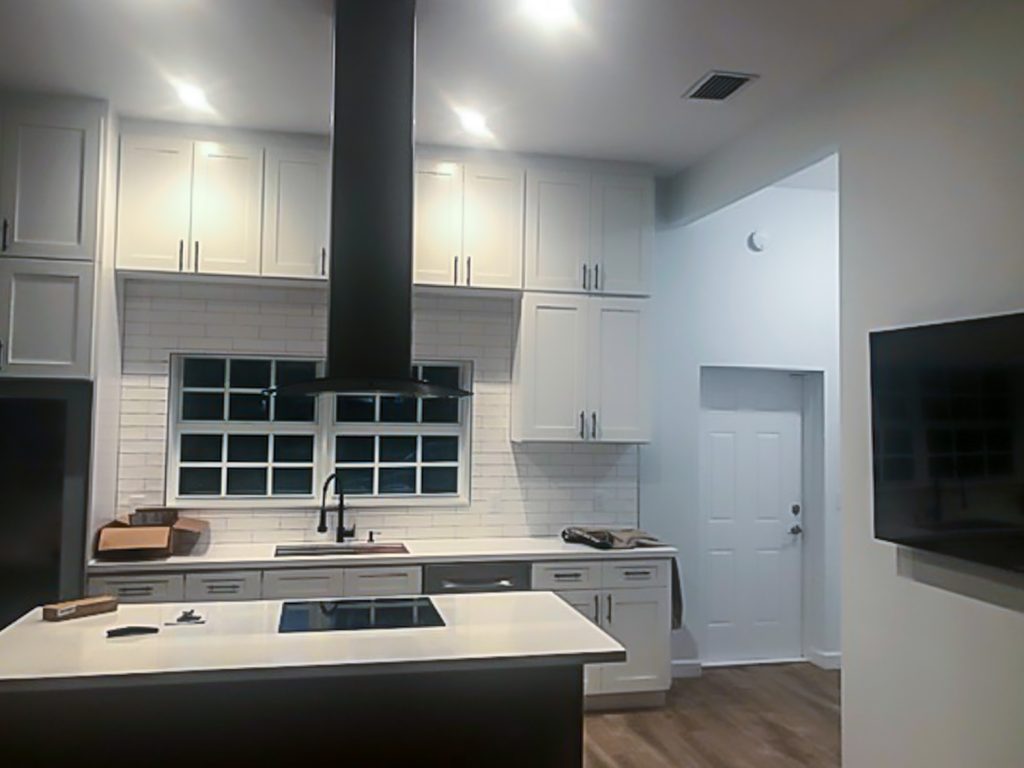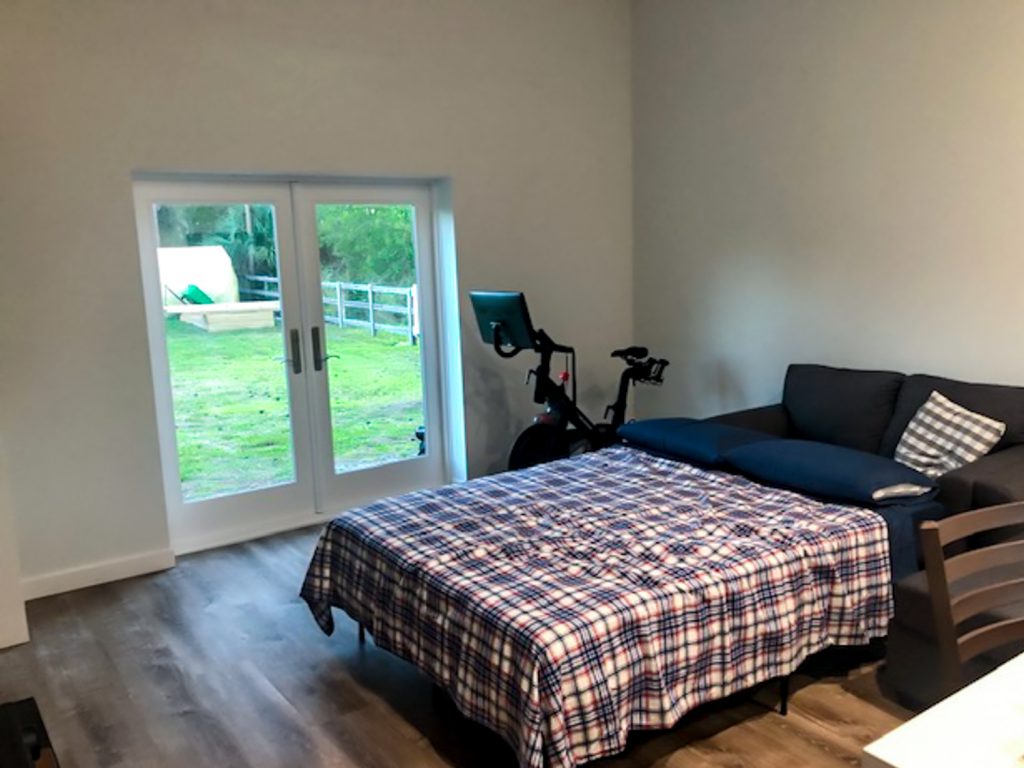 It has all the comforts of a big home – including full kitchen, Washer/Dryer, fold out bed, and large bathroom with a walk in shower.
It is essentially the a modern "studio apartment" – one which anyone living in the Big Apple would drool over. I would compare this to any of the high end studio apartments in New York City (which are actually smaller in square footage and rent for over $3000 USD / month).
This has proven to be the perfect place for self-quarantining during the Covid-19 crisis. I have improved it a bit, and have already added my Peloton bike.
I will eventually add a custom murphy bed (vision as follows) and will add wall hangings, decorations, shelving and so on. But more about that in a different blog.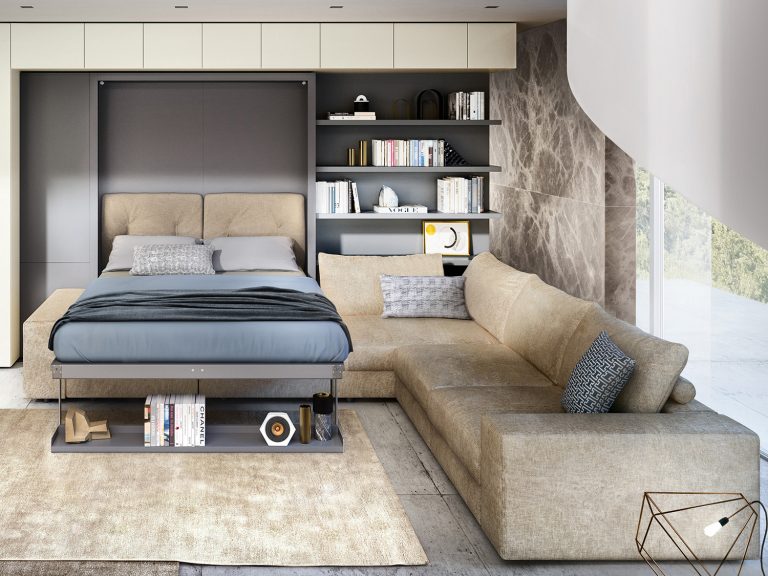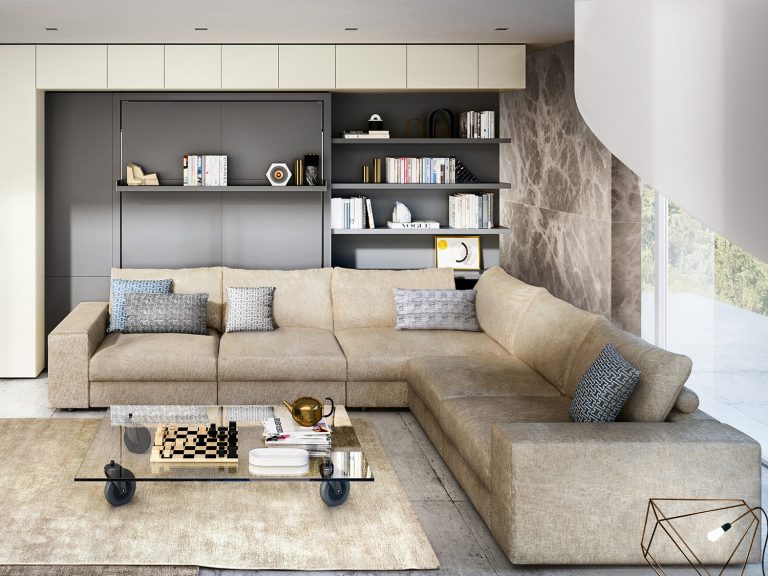 There will be more written about the the man cave details, and my journey to get it completed in separate blog posts.
The thought of living in a "tiny house" got me thinking, and thus, this blog was born.
Here are 10 Reasons to Love My Man Cave / Not-So-Big House
The word small may be relative, but however you define it, choosing a not-big home has an awful lot of benefits — from less clutter and less time spent cleaning to the possibility of splurging on higher-quality items you really love.
The list:
1. A small home can be cozy. When you think about a home that feels warm and cozy, a cavernous space probably does not come to mind — that's because when we're in a smaller space, we naturally gravitate toward one another. Smaller homes can help families gather.

2. A small home can feel spacious. Just because a home's overall footprint is small doesn't mean it has to feel small on the inside. A well-designed smaller home can feel just as spacious (if not more so) inside than a much larger home with an awkward floor plan.

3. A small home leaves more room outdoors. If you dream of having a beautiful garden or a lovely outdoor entertaining space, having a home with a smaller footprint can give you more of the outdoor living space you crave. By taking up less of the overall lot, a smaller home also gives you more distance and privacy from neighbors.
4. A small home is less costly to heat and cool. It's simple math: The more square feet you have, the more expensive it will be to keep your home at a comfortable temperature. Smaller homes are less expensive to heat and cool — which is especially important if you live in an area with extreme seasonal temperatures.

5. A small home is easier to furnish. If you're just starting out, the cost of furnishing your first house can add up fast, especially if that house has thousands of square feet of living space to fill. A small house (or condo or apartment) with less area to fill means you can focus on purchasing things you love, rather than stretching your budget just to get something in each room.

6. A small home can allow you to splurge on higher-quality finishes. Got your eye on a special stove or countertop material for the kitchen? In a large space, material costs can add up fast. But in a compact kitchen, you may be able to afford higher-end fixtures and finishes, since the area you have to cover is so much smaller

7. A small home can free up money for other things. Choosing a smaller home can free up your finances to cover other things that are important to you, such as travel adventures, business investments or a water view. Before thinking you "need" a certain amount of space, consider what you could gain by giving up some square footage.

8. A small home takes less time to clean. There's no way to get out of housecleaning entirely — but if you have a small home, the process is much quicker and easier. Shorten cleaning time each week and gain time to do something else … like sit down and enjoy your beautiful home!

9. A small home is easier on the environment. By using less water, power and other resources, a smaller home also has a smaller environmental footprint. Take that a few steps further by adding features like energy-efficient appliances, solar panels, rain barrels and a compost bin for the garden.

10. A small home is easier to maintain. From the driveway to the roof, the parts of a smaller home will nearly always cost less to repair and maintain than the equivalent parts on a larger home. This can add up to quite a bit of savings in time, energy and money over the long haul.